Best Omega-3 Supplement for Children
Eskimo-3 wins Best Omega-3 Supplement for Children as voted by Irish Parents.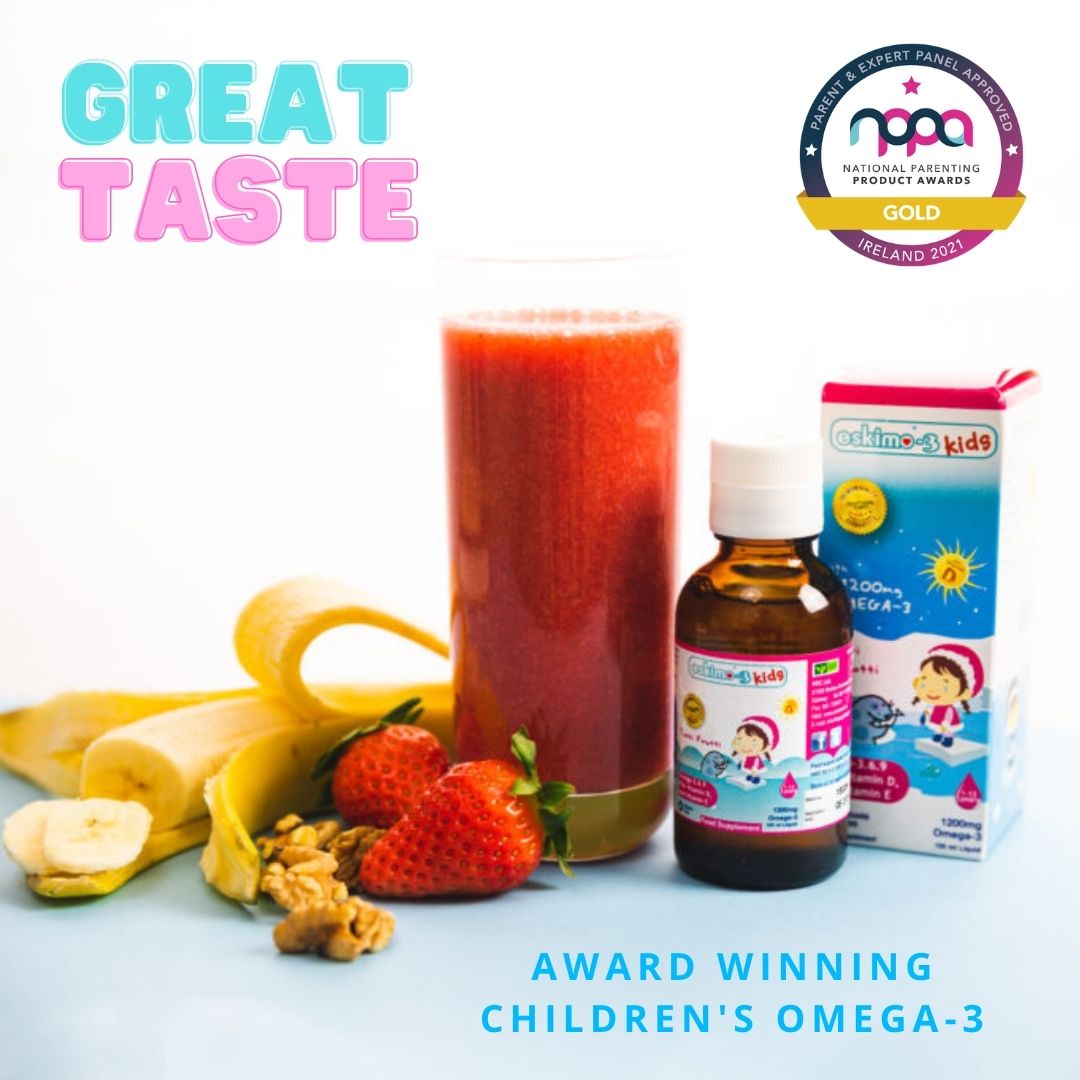 Best Omega-3 Supplement for Children
Eskimo-3 is honoured to win the award for Best Omega-3 Supplement for Children as voted by Irish Parents in the National Parenting Products Awards competition.

Omega-3 for Kids
"We are honoured to be one of winners of the National Parenting Products Awards competition," said Olive Curran, Marketing Director of PPC Galway Ltd.
"PPC is a family owned Irish business, so winning this award means a great deal to us. Parents like Eskimo-3 Kids as it has a long history of safety, its effective and children love it."
National Parenting Product Awards (NPPA)
National Parenting Product Awards (NPPA) is the "go-to" source for parents and professionals looking for the best children's products and resources. The NAPPA recognition means far more than simply a "good-enough" seal of approval. It signifies that a product has been rigorously evaluated against stringent criteria by expert judges and parent testers, and that it stands out among similar products. The NPPA's ambition is to deliver a clear and consumer-grounded evaluation that puts product experience at the heart of the research approach. We test the performance of these products in a live test environment where respondents are given time to touch, feel, look and use products and then give their opinions on the products' performance against selected metrics.
Voted By Irish Parents
"I'd like to take this opportunity to thank mums and dads of Ireland for supporting our brand and choosing Eskimo-3 Kids as your omega-3 supplement of choice. The fact that Eskimo-3 Kids has won this award twice is a testament to the quality and efficacy of the product. As an Irish company, we take great pride in our brand and we love to spread the word about all its benefits. Eskimo-3 Kids contains the popular Eskimo-3 fish oil rich in omega-3 EPA and DHA along with seed oils rich in omega-6 and omega-9, vitamin D and E. Eskimo-3 Kids supports brain and eye function, mood, memory and concentration. Thank you for recognising the premium quality of Eskimo-3 Kids. We love it too! " says Olive Curran, PPC Galway Ltd.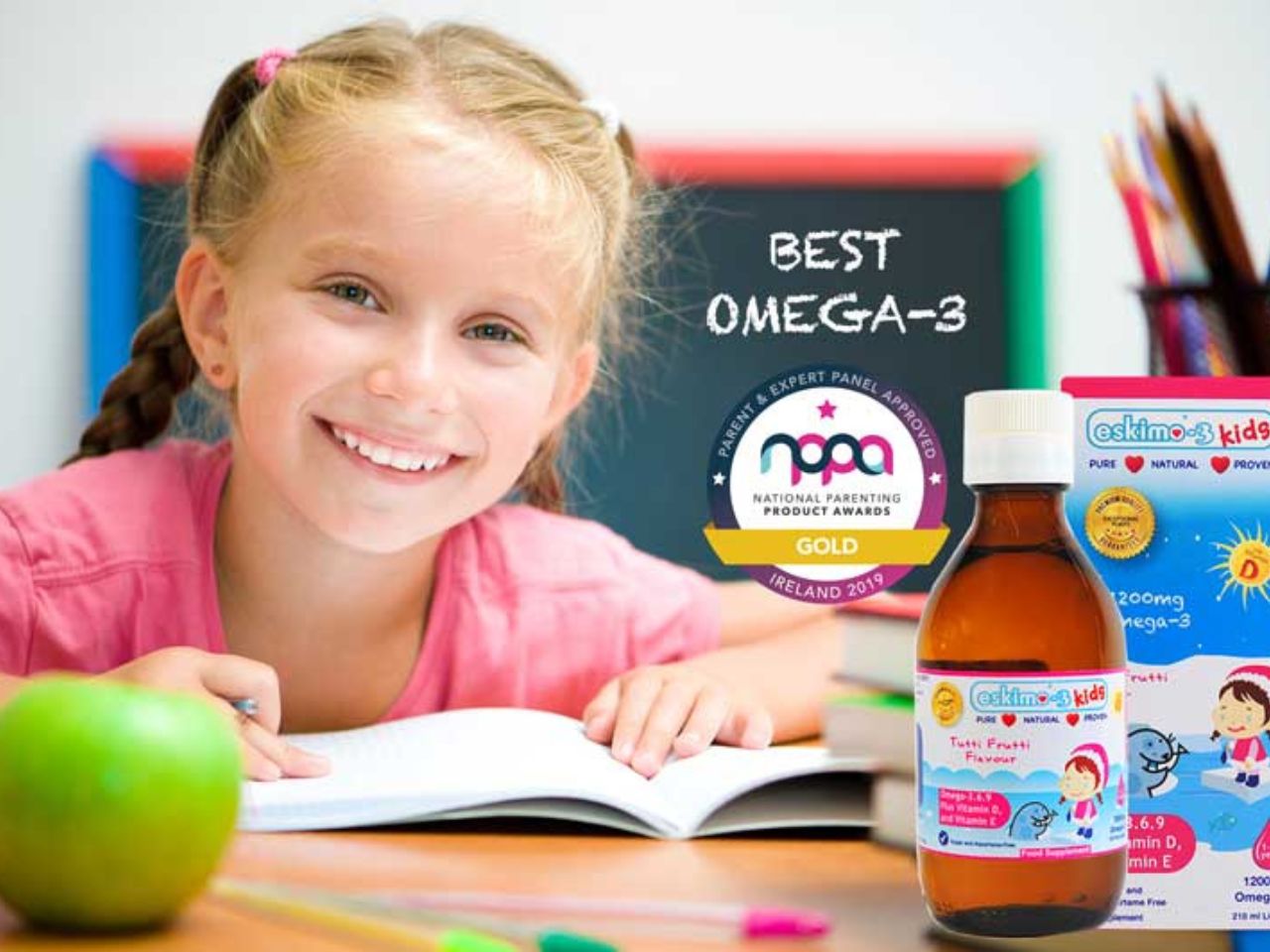 How Much Omega-3 is Required?
The European Food Safety Authority (EFSA) state that you need 250mg DHA daily to support healthy brain function. Eating oily fish twice a week (think SMASH: salmon, mackerel, anchovies, sardines and herring) will provide a healthy dose of omega-3 EPA/DHA.
Since it is almost impossible to get children to eat enough fish to meet the requirements, it's smart to supplement their diet with a premium Omega-3 supplement such as Eskimo-3 Kids.
Eskimo-3 Kids: Trusted by Parents Nationwide
Omega-3 fatty acids are the most critical building blocks of the brain; they are considered essential and must be obtained through diet or supplementation. Without these important fats, it can become difficult for children to concentrate, learn new information, and balance their moods properly. Since most children do not eat oily fish on a regular basis, omega-3s are in short supply during the most critical stages of brain development.
Eskimo-3 Kids has been specifically formulated for their needs, providing ideal support for their health and helping to achieve full potential at school. Eskimo Kids features the same pure omega-3 fish oil as Eskimo-3, together with omega-6, Omega-9 and Vitamin D for specific kids support. Vitamin D is essential for normal growth and healthy bone development in children and also helps support immunity.
Fish Oil Supplement for Kids
Taking a daily fish oil supplement, naturally rich in Omega-3,6 and 9 plus Vitamin D, can support your child's brain, bones, immunity and skin and is a simple way to safeguard your child's health.
Eskimo-3 is committed to delivering safe, sustainably sourced, effective omega-3.
Be Smart, Choose Eskimo-3, Ireland's Favourite Omega-3. Available nationwide at health stores, pharmacies and our website.